What is the Best Vaping Device?
19 April 2016 | Admin
Once you've got your head round what vaping is and whether it's right for you, the next step is to choose your vaping device. This may seem a little daunting at first, but don't worry - like Moses to the Red Sea, we're here to part the fog from in front of you and help you see what's what more clearly.
We've drawn up some pros and cons of the three different types of personal vaporiser - the electronic cigarette (e-cigarette, e-cig, cigalike), the vape pen and the vape mod. A lot of people will refer to any personal vaporiser as an e-cig or a vape, but there are differences between them, believe it or not!
Read on to learn more about these differences and decide which vaping device is best for you!
E-Cigarettes
Pros:
E-cigs resemble the shape and size of real cigarettes. They even feature an LED on the end which glows when you inhale, mimicking the burning tip of a cigarette.
More portable - e-cigs simply consist of a re-chargeable battery and a cartomiser. The cartomiser has an integrated atomiser, and a cartridge which holds the nicotine and flavour.
The average e-cigarette will allow around 300 puffs, the equivalent amount to about thirty traditional cigarettes. The cartomiser can be changed when it has run out of juice.
E-cigs can come with a pre-filled cartridge, meaning you don't have to refill it yourself.
Sleek and discreet design - e-cigs feature an attractive slim-line design which can slip easily into your pocket.
Electronic cigarettes can be purchased in many convenience stores, for easy access.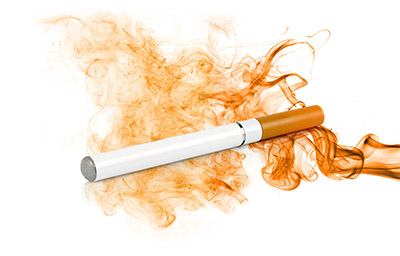 Cons:
Electronic cigarettes may be mistaken for a real cigarette. This could result in an awkward situation if you are vaping in a non-smoking area.
Limited battery life and tank capacity - due to the smaller size, electronic cigarettes will usually need to be re-charged and re-filled more often than their vape counterparts.
Weaker vapour production – as e-cigs hold less liquid than other personal vapourisers, they also produce smaller vapour clouds.
Less choice of flavours - users are restricted to buying cartridges which are the same brand as your battery, limiting the choice of e-juice flavours for you to vape.
No customisation – similarly, you cannot mix and match e-liquids or fill and re-fill the cartridge.
Vape Pens
Pros:
Larger tank size means fewer refills needed. Like an e-cig, vape pens consist of a battery and atomiser, but also feature a tank which holds the refillable flavoured e-liquid. The average tank holds 1-2ml of liquid, with approximately 50 puffs per ml of liquid.
More varied selection of e-juice flavours – tanks can hold practically any brand of e-liquid, providing the user with an essentially limitless option of flavours to try. Spiced rum and peach, anyone?!
Vape pens are said to produce a smoother, more consistent delivery of nicotine.
Longer battery life - vape pens require less charging than e-cigarettes and this means that they are more reliable for use throughout the day.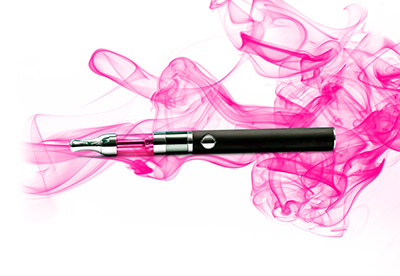 Cons:
Not as easy to get hold of – you may have to visit an online store or specific vape shop in order to buy refills, rather than picking them up from your local convenience store.
The atomizer can clog so you'll need to spend a bit more time maintaining your vape to ensure maximum performance.
Vape pens are bulkier than e-cigs, meaning that they may be more cumbersome when you're out and about.
You will have to re-fill the tank yourself rather than just replacing a cartridge. Although refilling is designed to be easy, it has the potential to be be slighter messier than with e-cigarettes.
Vape Mods
Pros:
A vape mod can produce even more vapour than traditional vapes. This makes them a popular choice among cloud-chasers.
Similarly, vape mods can deliver enhanced flavour as opposed to the above two options.
More customisable - vape mods are popular with more experienced vapours as they allow greater flexibility, for an enhanced, more personalised vaping experience.
The larger tank can hold more liquid – generally 3ml+ - meaning that you have to refill your vape less frequently.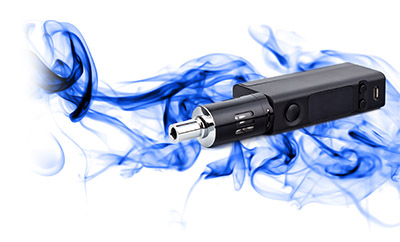 Cons:
Uses more power - the atomiser resistance is generally lower in order to achieve the larger vapour volume. The mod also vaporises e-liquid at a higher rate.
Mods are bulkier than vape pens, therefore less easily portable.
Vape mods are more customisable and flexible and are therefore generally more expensive.
More complex - using a vape mod requires a higher learning curve and more research in order to get the most out of your device.
As with a vape pen, you will likely have to purchase your mod from a specific vape shop or online, rather than from your local convenience store.
Conclusion
Is an E-Cig the Right Option?
If you are looking to simulate the experience of smoking as realistically as possible, for instance if you want a substitute for traditional cigarettes but without the same health risks, an e-cig may be the best choice for you.
If you are interested in joining the cloud-chasing craze, with the chance to customise and experiment with flavours, you may find an e-cig to be limiting. Having said that, e-cigs can often deliver a deeper "throat hit" more akin to a real cigarette, which cloud-chasers often seek.

Is a Vaporiser the Right Option?
If it is the range of e-liquid flavours and the vaping community which appeals to you, you're probably better off with a vape pen or mod. With longer battery lives, larger vape clouds and, ultimately, more scope to have a bit of fun with, vape pens and mods tend to be the most popular choice of personal vapourisers.
The two are largely similar, but for those who want to produce the biggest vapour clouds, without having to refill the tank as often, we'd suggest a vape mod. If a slimmer, more simple design is more important to you, go for a vape pen.
You may also consider a desktop vaporiser, a plug-in unit designed for use at home. This may be more suited to you if you wish to share the vape around with friends, similar to a hookah pipe. Desktop vapourisers are generally more resilient and are perfect if you regularly vape in your home.
If you now feel ready to try out your first vapouriser, visit the online store at Vape Mountain today!

£6.99

| | | |
| --- | --- | --- |
| | | In stock now |

Tobacco-flavoured electronic cigarette refill
Suitable for the OK Vape Rechargeable E-Cigarette
Extra-high nicotine strength of 20mg
Each pack contains 5 refills, with bulk offers available
Available from £5.00 per pack!

FREE OK Vape Starter Kit Offer: Enter

switch2ok

at checkout

£11.99

| | | |
| --- | --- | --- |
| | | In stock now |

Tobacco flavoured e-liquid
Nicotine strengths: 6mg, 12mg and 18mg
VG: 50%, PG: 50%
Made in the UK

£11.99

| | | |
| --- | --- | --- |
| | | In stock now |

Strawberry and lime flavoured e-liquid
Nicotine strengths: 6mg, 12mg and 18mg
VG: 50%, PG: 50%
Made in the UK

£5.99

| | | |
| --- | --- | --- |
| | | In stock now |

Ergonomic mouthpiece for consistent vapour
Top-filling design makes refills quick and easy
Clear window shows how much e-liquid is left
Designed exclusively for Blu Pro to ensure compatibility

£11.99

| | | |
| --- | --- | --- |
| | | In stock now |

Fruity blackcurrant flavoured e-liquid
Nicotine strengths: 6mg, 12mg and 18mg
VG: 50%, PG: 50%
Made in the UK

£10.00

| | | |
| --- | --- | --- |
| | | In stock now |

E-cigarette device for use with EDGE GO pods
Sleek and slender device is discreet to use
Buttonless design for easy activation
Petite 10.5cm length perfect for on-the-go use

£23.99

| | | |
| --- | --- | --- |
| | | In stock now |

Five packs of blackcurrant-flavoured pods
Designed for use with the EDGE GO device
Easy to use with a simple click-and-go design
Available in a range of nicotine strengths

£11.99

| | | |
| --- | --- | --- |
| | | In stock now |

Strawberry milkshake flavoured e-liquid
Nicotine strengths: 6mg, 12mg and 18mg
VG: 50%, PG: 50%
Made in the UK

£11.99

| | | |
| --- | --- | --- |
| | | In stock now |

Cherry and menthol flavoured e-liquid
Nicotine strengths: 6mg, 12mg and 18mg
VG: 50%, PG: 50%
Made in the UK

£6.99

| | | |
| --- | --- | --- |
| | | In stock now |

Tobacco-flavoured electronic cigarette refill
Suitable for the OK Vape Rechargeable E-Cigarette
Medium nicotine strength of 12mg
Each pack contains 5 refills, with bulk offers available

FREE OK Vape Starter Kit Offer: Enter

switch2ok

at checkout

Available from £5.00 per pack!

£5.49

| | | |
| --- | --- | --- |
| | | In stock now |

Rechargeable electronic cigarette with slim "cigalike" design
Includes two tobacco flavoured nicotine refills
Starter kit includes everything that you need to start vaping
Number of different tobacco and menthol refills available

FREE OK Vape Starter Kit Offer: Enter

switch2ok

at checkout

£6.99

| | | |
| --- | --- | --- |
| | | In stock now |

Tobacco-flavoured electronic cigarette refill
Suitable for the OK Vape Rechargeable E-Cigarette
High nicotine strength of 18mg
Each pack contains 5 refills, with bulk offers available
Available from £5.00 per pack!

FREE OK Vape Starter Kit Offer: Enter

switch2ok

at checkout