5 October 2022 | Seth
If you prefer the refreshing taste of fruit infusion, you're in the right place. Take a look at our favourite Vuse ePod 2 Fruity Flavours.
3 October 2022 | Seth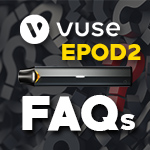 If you've got a question about the Vuse ePod 2, you're in the right place. We've put everything you need to know in one place, with our Vuse ePod 2: FAQs.
30 September 2022 | Seth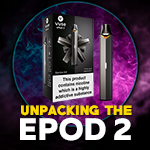 The Vuse ePod 2 is one of the most popular pod-style ecigarettes on the market. Find out why by taking a look at our introductory showcase guide.
30 September 2022 | Seth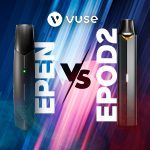 When there are so many options out there, choosing the right vape for you can seem impossible. We're here to make it easy.
30 September 2022 | Seth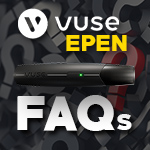 Got a question about the Vuse ePen? You're in the right place. We'll answer all your Vuse questions in our FAQ article.
2 January 2019 | Admin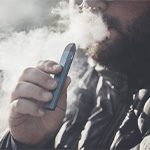 If you're just starting out, the abundant choice of vaping devices can quickly become overwhelming. We think vaping should be fun, which is why we've created this quick breakdown of two of the most common types of vaping, so you can make an informed decision without digging too deep into the science behind vaping.
3 December 2018 | Admin

It's the final month of 2018, which means that Christmas is just around the corner. Whether you want to get your vapeaholic friend a set of e-liquids that won't make you seem so two months ago or you want to get yourself a treat before the holiday mayhem begins, take a look at What's Trending in December 2018 here!
3 October 2018 | Admin

If you've tried vaping before just to realise it can in no way compete with your regular tobacco cigarettes, you're not alone. What most people fail to tell you is that going from smoking to vaping is not an instant decision, but a process that demands time, dedication and, most of all, a solid plan. It's best to start with vaping products that are most similar to the real thing, and slowly phase tobacco out of your life. Blu has a proposition for every stage of your journey.
27 September 2018 | Admin

The word on the street is that nic salts are the next big thing in the world of vaping, and if you haven't tried them already, you're missing out. There might be some truth in that, but nicotine salts are more than just another try-and-forget trend out there. Vapers and smokers are flocking towards this new phenomenon, and there's a good reason for that. If you're not sure what all the fuss is about, or even if you've already tried nic salts but have no idea what they are, this article is here to shed some light on one of the hottest topics right now.
25 September 2018 | Eugene

The world of vaping can be intimidating at times. Vaping has progressed a long way over the years, and often the complex modded rigs that some vapers swear by have been outpaced by new technology, new ideas and new designs. Enter MyBlu and its sleek new approach to high performance vaping. Blu are consistently proving that the best things really do come in small packages.