What's Trending: E-Liquids December 2018
3 December 2018 | Admin
It's the final month of 2018, which means that Christmas is just around the corner. Whether you want to get your vapeaholic friend a set of e-liquids that won't make you seem so two months ago or you want to get yourself a treat before the holiday mayhem begins, take a look at What's Trending: E-Liquids for December 2018 here!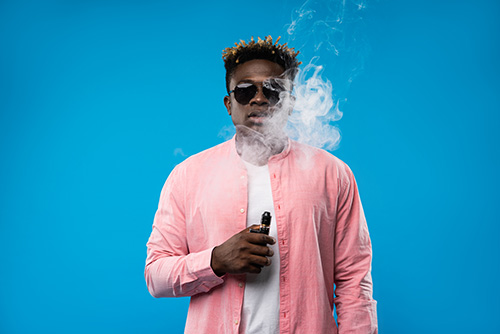 What are Your Favourites?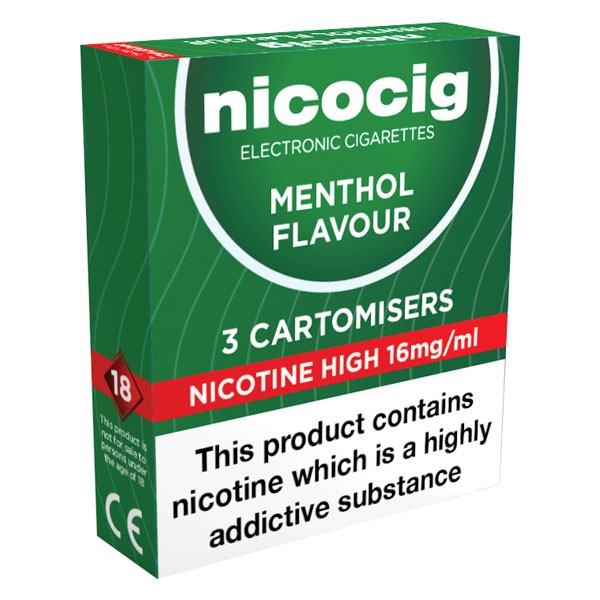 Nicocig are top again once more, except this time it's the Menthol Nicocig Refill Cartridges High Strength Cartomisers that take the top spot. What's more, we've added these cartomisers in combo packs with a free Nicocig battery when you buy 20 boxes and over! This helps ensure you remain well stocked even when shops are closed over Christmas and New Years, but hurry as this deal won't last forever.
Key Features: Available in a range of combination packs; strong menthol flavour for a refreshing hit.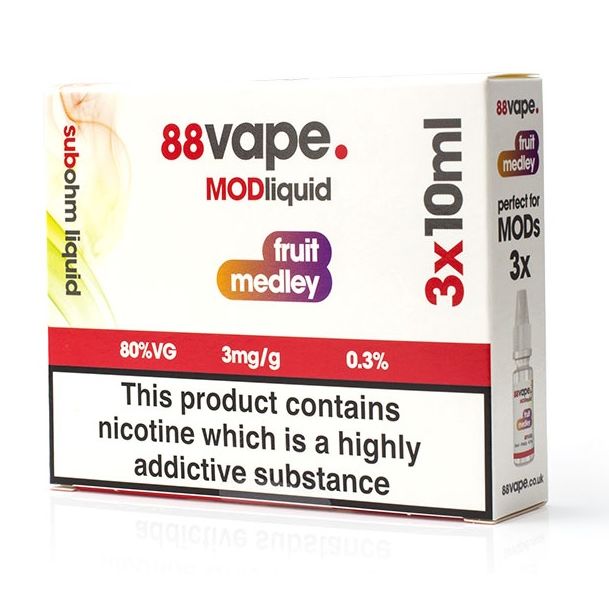 If you're looking for a fruit salad medley that will blow your socks off, the 88Vape Mod Liquid Fruit Medley E-Liquid (60ml) is probably just about the only e-juice that can live up to this claim. Perfect for use in RDAs, drippers and sub-ohm devices, this little e-juice offers a vaping experience that remains unrivalled in flavour and intensity!
Key Features: Offers a blast of fruity flavour; supplied in two packs of 3 x 10ml bottles.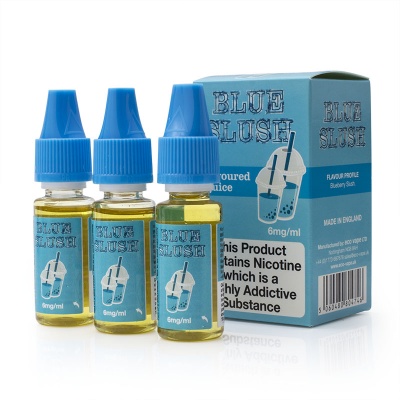 This one had us a little confused when we first saw it on the list. After all, December weather and slushies don't generally mix – even if it is an abnormally hot December! But then we got to thinking: perhaps winter is the perfect time to vape the Eco Vape Dripping Blue Slush Max VG E-Juice! After all, real slushies can be enjoyed in the height of summer, but all you'll get if you try to order one in the winter is a blank look and a shake of the head, as if they never existed in the first place. This e-liquid allows you to enjoy the classic blueberry slush flavour all year round.
Key Features: Sweet classic blueberry slush flavour; allows you to enjoy this icy treat any time of the year.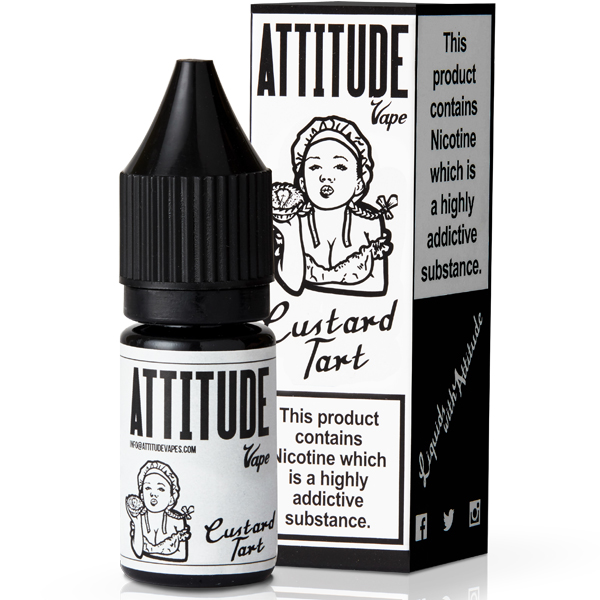 The country of origins for the custard tart have been disputed for decades, but one thing we can all agree on is that the Attitude Vapes Custard Tart E-Liquid is a delight to the senses. With its flavour of smooth custard on a shortbread base, it's no wonder this e-juice has sneaked its way onto our list of trending e-liquids! With its rich and creamy vanilla custard flavouring sitting deep inside a sweet shortbread biscuit base, this is the perfect way of soothing your sweet tooth and preparing for the sweet desserts of Christmas!
Key Features: Offers an indulgent custard and shortbread flavour; perfect for those with a sweet tooth.
Great Savings on Trending E-Liquids
Food, presents, cards... there are so many costs involved in December that all too often your budget can get decimated in this month. Here at Vape Mountain, we're keen on helping you save on our most popular e-liquids; we even offer up to 60% off! Take a look below to find out which are the greatest in the range.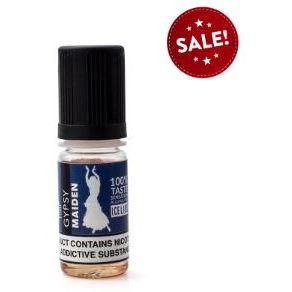 Designed to offer the traditional flavours of Gypsy Queen tobacco, the Iceliqs Originals Gypsy Maiden E-Liquid (Money Off!) will transport you back in time and space to just before the American Civil War. This e-juice is perfect if you want to experience a classic tobacco flavour, making it ideal if you're a new vaper and are looking for a familiar alternative to conventional smoking. With 50% off this flavour, you'll be crazy to miss out!
Some people simply don't like good deals, just as some people don't like cute little puppies. If you find that you are one of these people or you simply missed out on this great deal, we also offer the Iceliqs Original Gypsy Maiden E-Liquid at full price.
Key Features: Ideal as an alternative to conventional cigarettes; great savings; classic tobacco flavour.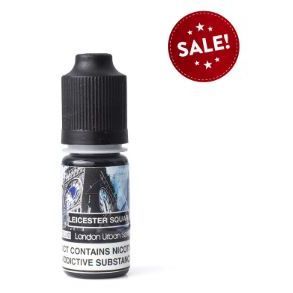 If you're looking for an urban tobacco flavour, the Iceliqs Underground Series Leicester Square E-Liquid (Money Off!) provides a strong and satisfying fire-cured tobacco and light cigar flavour. This is perfect if you're looking for an e-juice that epitomises the flavours of Leicester Square station without the hoards of people and crowds of unentertaining entertainers. With 50% off, this e-liquid is an excellent choice for expert vapers and novices alike.
If you're looking to purchase this e-liquid at full price, the Iceliqs Underground Series Leicester Square E-Liquid is perfect for you. You get the same great taste as the discounted version (minus the sweet taste added from finding a great deal).
Key Features: Light cigar and fire-cured tobacco flavour; great savings; urban tobacco taste.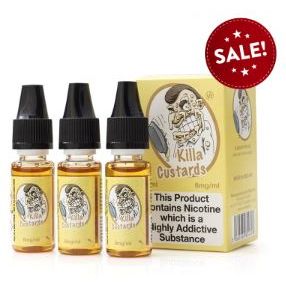 Indulging in sweet desserts often goes hand in hand with feelings of guilt, but if you're looking for a bit of decadence without the shame, the Eco Vape Dripping Killa Custard V2 High VG E-Juice (Money Off!) is, quite simply, killa. Rich and creamy, this is everything you want in a sweet e-liquid and satisfies those cravings for stodgy food that the cold weather brings. This e-liquid was a top hit last month too, but this month it's available with a discount of 40%!
Have you missed the deal above? If so, the Eco Vape Dripping Killa Custard V2 High VG E-Juice is available without a discount.
Key Features: Rich and creamy taste; great savings; sweet and indulgent.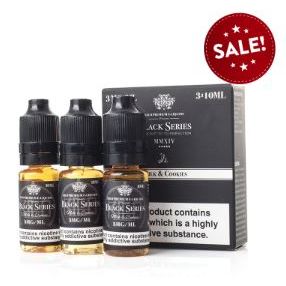 The Kilo Black Series Milk and Cookies E-Liquid (Money Off!) makes a great sweet treat if you've spent your day and night delivering Christmas presents to children around the world – or if you simply fancy indulging in the taste of chocolate chip cookies dunked in a glass of cold milk. Don't worry, though; being Father Christmas isn't a prerequisite to vaping this e-liquid, but it's sure to make you feel like you're flying across the world on Santa's sleigh!
If you don't want Santa's little elves missing out on their cut, the Kilo Black Series Milk and Cookies E-Liquid is available without a discount.
Key Features: Delicious milk and cookie flavour; great savings; rich and satisfying taste.
Trending E-Liquids at Vape Mountain
Here at Vape Mountain, we understand that one man's trash is another man's treasure, which is why we've selected a wide range of trending e-liquids that should suit a number of palettes. This includes a selection of e-liquids from our Clearance section and 60% off clearance range, all of which are perfect for vaping on a budget! Tell us what your favourite e-liquid is this month by leaving us a comment below or contacting us on Facebook or Twitter!

£10.00

| | | |
| --- | --- | --- |
| | | In stock now |

E-cigarette device for use with EDGE GO pods
Sleek and slender device is discreet to use
Buttonless design for easy activation
Petite 10.5cm length perfect for on-the-go use

£6.99

| | | |
| --- | --- | --- |
| | | In stock now |

Menthol-flavoured electronic cigarette refill
Suitable for the OK Vape Rechargeable E-Cigarette
Medium nicotine strength of 12mg
Each pack contains 5 refills, with bulk offers available
Available from £5.00 per pack!

FREE OK Vape Starter Kit Offer: Enter

switch2ok

at checkout

£11.99

| | | |
| --- | --- | --- |
| | | In stock now |

Menthol flavoured e-liquid
Nicotine strengths: 6mg, 12mg and 18mg
VG: 50%, PG: 50%
Made in the UK

£23.99

| | | |
| --- | --- | --- |
| | | In stock now |

Five packs of blackcurrant-flavoured pods
Designed for use with the EDGE GO device
Easy to use with a simple click-and-go design
Available in a range of nicotine strengths

£11.99

| | | |
| --- | --- | --- |
| | | In stock now |

Fruity blackcurrant flavoured e-liquid
Nicotine strengths: 6mg, 12mg and 18mg
VG: 50%, PG: 50%
Made in the UK

£6.99

| | | |
| --- | --- | --- |
| | | In stock now |

Menthol-flavoured electronic cigarette refill
Suitable for the OK Vape Rechargeable E-Cigarette
High nicotine strength of 18mg
Each pack contains 5 refills, with bulk offers available
Available from £5.00 per pack!

FREE OK Vape Starter Kit Offer: Enter

switch2ok

at checkout

£11.99

| | | |
| --- | --- | --- |
| | | In stock now |

Strawberry milkshake flavoured e-liquid
Nicotine strengths: 6mg, 12mg and 18mg
VG: 50%, PG: 50%
Made in the UK

£6.99

| | | |
| --- | --- | --- |
| | | In stock now |

Tobacco-flavoured electronic cigarette refill
Suitable for the OK Vape Rechargeable E-Cigarette
Extra-high nicotine strength of 20mg
Each pack contains 5 refills, with bulk offers available
Available from £5.00 per pack!

FREE OK Vape Starter Kit Offer: Enter

switch2ok

at checkout

£11.99

| | | |
| --- | --- | --- |
| | | In stock now |

Tobacco flavoured e-liquid
Nicotine strengths: 6mg, 12mg and 18mg
VG: 50%, PG: 50%
Made in the UK

£11.99

| | | |
| --- | --- | --- |
| | | In stock now |

Fruit and menthol flavoured e-liquid
Nicotine strengths: 6mg, 12mg and 18mg
VG: 50%, PG: 50%
Made in the UK

£11.99

| | | |
| --- | --- | --- |
| | | In stock now |

Blueberry and strawberry flavoured e-liquid
Nicotine strengths: 6mg, 12mg and 18mg
VG: 50%, PG: 50%
Made in the UK

£11.99

| | | |
| --- | --- | --- |
| | | In stock now |

Cherry and menthol flavoured e-liquid
Nicotine strengths: 6mg, 12mg and 18mg
VG: 50%, PG: 50%
Made in the UK