Going Underground with Iceliq's Underground Range
18 May 2016 | Admin
Think of dark pubs hidden down cobbled alleys. Think of The Clash's 'London Calling' pounding in time to the slapping of your shoes against the pavement. Think of big city attitude marbled with classic British charm.
"Experience the urban taste of London" reads Iceliqs' introduction to their Underground series, a bold range created with those making the transition from smoking to vaping in mind. Want to learn more? Well, let the brass bands play and your feet start to pound, cause we're going underground...follow us!
Beneath the Surface
First of all, let's get beneath the surface of the Iceliqs Underground Range and find out what it's really about.
People choose to vape for different reasons. Some are aspiring savvy cloud-chasers, fiddling around in the realm of mods and sub-ohm in order to produce the best vapour plumes. Some are drawn in by the range of unique flavours, wanting to feel like a kid in a sweetshop and sample all the blends. And others want to forget the fuss, forget the clouds, forget the flavours, and just get down to business. This is more likely if you're choosing to vape as an alternative to smoking.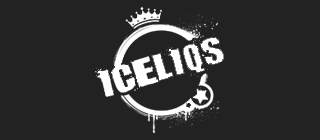 Many ex-smokers, or those who are trying to cut down, vape in order to simulate the experience of smoking, whilst getting a nicotine fix to help with the cravings. This is seen as a healthier alternative as the process of vaping doesn't involve combustion or tobacco and therefore doesn't cause you to breathe in the same harmful chemicals and carcinogens.
The range of e-liquid flavours available on the market is constantly growing – blue cotton candy, dragon fruit and watermelon, whiskey and cola... But, if you are vaping to help transition from traditional cigarettes, these may be wasted on you. It's more likely you'll just want to stick to the classic tobacco or menthol flavours in order to fill the space of analogues more realistically. Which is where Iceliqs Underground comes in.
Twist and Shout
There are many other brands of e-liquid which sell standard tobacco and menthol flavours. However, the Underground range is unique in that it doesn't just offer tobacco and menthol but also subtle twists on these classics, combining them with other notes or altering the intensity of the flavour. Who said tobacco and menthol flavoured e-liquid had to be boring?
Named after London Underground tube stations, the Temple liquid is menthol, pure and simple – but the range also offers the Victoria juice, for example, which mixes menthol with overtones of coconut rum cocktail.
London Bridge has a semi-sweet tobacco flavour, perfect for those used to light smoking, or alternatively try Borough for a stronger tobacco taste. But, for when you fancy a slight change, the series also includes Bank, tobacco flavoured liquid with caramel and vanilla notes, or Oxford Circus which tastes like a light cigar. Charring Cross's sweet tobacco flavour even tastes like hot cross buns!
Mind the Gap
There seemed to be a gap in the market for e-liquids which both maintained traditional, familiar cigarette flavours whilst also giving users something extra. Firmly closing that gap, Iceliqs have turned the stereotype of classic e-liquid flavours being dull on its head. You need never return to your old analogues!
So no delays, full steam ahead and start your commute to the Iceliqs Underground series now, available from Vape Mountain.

£6.99

| | | |
| --- | --- | --- |
| | | In stock now |

Menthol-flavoured electronic cigarette refill
Suitable for the OK Vape Rechargeable E-Cigarette
High nicotine strength of 18mg
Each pack contains 5 refills, with bulk offers available
Available from £5.00 per pack!

FREE OK Vape Starter Kit Offer: Enter

switch2ok

at checkout

£6.99

| | | |
| --- | --- | --- |
| | | In stock now |

Menthol flavour refill cartridges for the OK Rechargeable E-Cigarette
Each pack contains five cartridges and lasts for the equivalent of 125 traditional cigarettes
Nicotine-free with 0mg of nicotine in each cartridge
Bulk offers available starting at £5.00 per pack

FREE OK Vape Starter Kit Offer: Enter

switch2ok

at checkout

£5.49

| | | |
| --- | --- | --- |
| | | In stock now |

Rechargeable electronic cigarette with slim "cigalike" design
Includes two tobacco flavoured nicotine refills
Starter kit includes everything that you need to start vaping
Number of different tobacco and menthol refills available

FREE OK Vape Starter Kit Offer: Enter

switch2ok

at checkout

£6.99

| | | |
| --- | --- | --- |
| | | In stock now |

Tobacco-flavoured electronic cigarette refill
Suitable for the OK Vape Rechargeable E-Cigarette
Low nicotine strength of 6mg
Each pack contains 5 refills, with bulk offers available
Available from £5.00 per pack!

FREE OK Vape Starter Kit Offer: Enter

switch2ok

at checkout

£32.49

| | | |
| --- | --- | --- |
| | | In stock now |

Starter kit containing everything that you need to start vaping
Menthol flavoured and ideal for those who want to cut down on smoking
Contains a total of 26 high strength refills (18mg) and one medium strength refill (12mg)
Includes a USB charger, K1 Battery and an OK Vape carry case

FREE OK Vape Starter Kit Offer: Enter

switch2ok

at checkout

£11.99

| | | |
| --- | --- | --- |
| | | In stock now |

Strawberry and lime flavoured e-liquid
Nicotine strengths: 6mg, 12mg and 18mg
VG: 50%, PG: 50%
Made in the UK

£6.99

| | | |
| --- | --- | --- |
| | | In stock now |

Tobacco-flavoured electronic cigarette refill
Suitable for the OK Vape Rechargeable E-Cigarette
Medium nicotine strength of 12mg
Each pack contains 5 refills, with bulk offers available

FREE OK Vape Starter Kit Offer: Enter

switch2ok

at checkout

Available from £5.00 per pack!

£11.99

| | | |
| --- | --- | --- |
| | | In stock now |

Fruity blackcurrant flavoured e-liquid
Nicotine strengths: 6mg, 12mg and 18mg
VG: 50%, PG: 50%
Made in the UK

£6.99

| | | |
| --- | --- | --- |
| | | In stock now |

Menthol-flavoured electronic cigarette refill
Suitable for the OK Vape Rechargeable E-Cigarette
Medium nicotine strength of 12mg
Each pack contains 5 refills, with bulk offers available
Available from £5.00 per pack!

FREE OK Vape Starter Kit Offer: Enter

switch2ok

at checkout

£11.99

| | | |
| --- | --- | --- |
| | | In stock now |

Tobacco flavoured e-liquid
Nicotine strengths: 6mg, 12mg and 18mg
VG: 50%, PG: 50%
Made in the UK

£11.99

| | | |
| --- | --- | --- |
| | | In stock now |

Menthol flavoured e-liquid
Nicotine strengths: 6mg, 12mg and 18mg
VG: 50%, PG: 50%
Made in the UK

£23.99

| | | |
| --- | --- | --- |
| | | In stock now |

Five packs of blackcurrant-flavoured pods
Designed for use with the EDGE GO device
Easy to use with a simple click-and-go design
Available in a range of nicotine strengths