New TPD Legislation: What It Means for You
3 April 2017 | Admin
On the 20th May 2016, the Tobacco Products Directive 2014/14/EU (TPD) came into force. Almost a year down the line, the effects of this legislation on the individual vaper and the industry as a whole are beginning to be felt. While this might seem confusing, there's no need to be alarmed – we've created this simple guide to the TPD legislation to get you up to speed.
The Big Changes
The new rules introduced by the TPD broadly ensure the following:
Minimum standards for the safety and quality of all e-cigarettes and refill containers (otherwise known as e-liquids)
That information will be provided to consumers so that they can make informed choices
An environment that protects children from starting to use these products
Basically, this means that e-liquids, e-juices and e-cigarettes are going to be subject to some of the same scrutiny to which traditional tobacco products are subjected. While the regulations help to ensure that every e-liquid being sold is manufactured to a higher standard than was previously required, it also places a few limitations on the electronic cigarettes that you know and love.
So, what exactly will this mean for you, the vaper?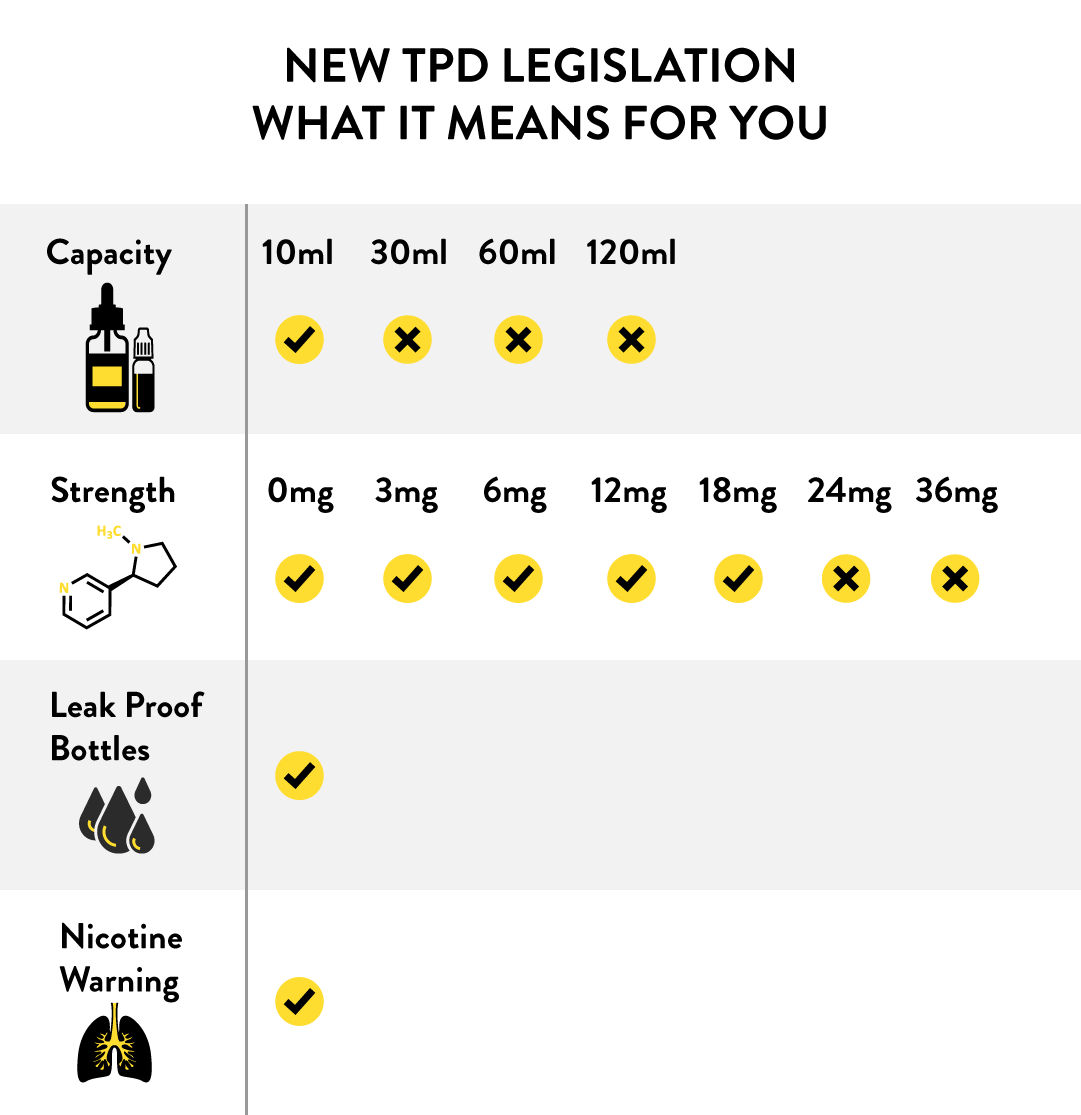 New Health Warnings
The visual appearance of e-liquid packaging will be changing to incorporate tobacco-style health warnings. These warnings will be standardised and will be placed on the front and back of every e-liquid package.
New Minimum Standards
As mentioned above, TPD enforces new regulations on the size and strength of all e-liquids. From now on, e-liquids will be supplied in bottles that have a maximum volume of 10ml and a maximum nicotine strength of 20mg.
E-liquids must also now be supplied in leak-proof bottles. We believe this to be a positive development that will improve safety for everyone and make the refilling process easier.
What Will No Longer Be Available
Since the new maximum strength for e-liquids will be 20mg (or 2%) nicotine, anything above this will no longer be available. For the majority of vapers, this won't be a major issue, but for those of you who regularly enjoy the very strongest nicotine strengths, it will.
If you frequently vape 24mg or 36mg products, it's a good idea to try to start weaning yourself off these now; if you still want to buy them, it's absolutely essential that you visit our 24mg or 36mg categories and purchase on or before the 19th May 2017, as we won't be allowed to supply these products after that date.
Top Tip
If you prefer to buy e-liquid in 30ml bottles or larger you may feel disappointed at having to use the smaller 10ml bottles. Some manufacturers, however, will offer 3 x 10ml bottles for the same price, in a single pack, offering a workable alternative.
Brexit and TPD
As TPD is a European directive, Britain's recent decision to exit the European Union has thrown up a small cloud of uncertainty over it. With the UK generally being more sympathetic to the e-cigarette industry than Europe, there's even the possibility that the rather restrictive regulations imposed by TPD may be relaxed somewhere down the line. However, for the short term, the only thing that's certain is that TPD will continue to apply at least until the Britain has formally exited the EU in 2019. Barnaby Page from ecigintelligence.com explains:
"In the longer term, although a plausible outcome could be more liberal e-cigarette regulation for British vapers along with a less favourable international business environment for UK e-cig companies, there are so many factors at play – the departure negotiations, British internal politics, and of course larger trends in the e-cigarette market itself – that about the only sure bet is that there will be unanticipated developments."
Got any further questions or comments about TPD? We'd love to hear from you in the comments below!

£5.49

| | | |
| --- | --- | --- |
| | | In stock now |

Rechargeable electronic cigarette with slim "cigalike" design
Includes two tobacco flavoured nicotine refills
Starter kit includes everything that you need to start vaping
Number of different tobacco and menthol refills available

FREE OK Vape Starter Kit Offer: Enter

switch2ok

at checkout

£11.99

| | | |
| --- | --- | --- |
| | | In stock now |

Tobacco flavoured e-liquid
Nicotine strengths: 6mg, 12mg and 18mg
VG: 50%, PG: 50%
Made in the UK

£6.99

| | | |
| --- | --- | --- |
| | | In stock now |

Tobacco-flavoured electronic cigarette refill
Suitable for the OK Vape Rechargeable E-Cigarette
High nicotine strength of 18mg
Each pack contains 5 refills, with bulk offers available
Available from £5.00 per pack!

FREE OK Vape Starter Kit Offer: Enter

switch2ok

at checkout

£11.99

| | | |
| --- | --- | --- |
| | | In stock now |

Tobacco flavoured e-liquid
Nicotine strengths: 6mg, 12mg and 18mg
VG: 50%, PG: 50%
Made in the UK

£11.99

| | | |
| --- | --- | --- |
| | | In stock now |

Blueberry and strawberry flavoured e-liquid
Nicotine strengths: 6mg, 12mg and 18mg
VG: 50%, PG: 50%
Made in the UK

£6.99

| | | |
| --- | --- | --- |
| | | In stock now |

Menthol-flavoured electronic cigarette refill
Suitable for the OK Vape Rechargeable E-Cigarette
Medium nicotine strength of 12mg
Each pack contains 5 refills, with bulk offers available
Available from £5.00 per pack!

FREE OK Vape Starter Kit Offer: Enter

switch2ok

at checkout

£5.99

| | | |
| --- | --- | --- |
| | | In stock now |

Ergonomic mouthpiece for consistent vapour
Top-filling design makes refills quick and easy
Clear window shows how much e-liquid is left
Designed exclusively for Blu Pro to ensure compatibility

£6.99

| | | |
| --- | --- | --- |
| | | In stock now |

Menthol flavour refill cartridges for the OK Rechargeable E-Cigarette
Each pack contains five cartridges and lasts for the equivalent of 125 traditional cigarettes
Nicotine-free with 0mg of nicotine in each cartridge
Bulk offers available starting at £5.00 per pack

FREE OK Vape Starter Kit Offer: Enter

switch2ok

at checkout

£11.99

| | | |
| --- | --- | --- |
| | | In stock now |

Menthol flavoured e-liquid
Nicotine strengths: 6mg, 12mg and 18mg
VG: 50%, PG: 50%
Made in the UK

£11.99

| | | |
| --- | --- | --- |
| | | In stock now |

Cherry and menthol flavoured e-liquid
Nicotine strengths: 6mg, 12mg and 18mg
VG: 50%, PG: 50%
Made in the UK

£11.99

| | | |
| --- | --- | --- |
| | | In stock now |

Fruity blackcurrant flavoured e-liquid
Nicotine strengths: 6mg, 12mg and 18mg
VG: 50%, PG: 50%
Made in the UK

£6.99

| | | |
| --- | --- | --- |
| | | In stock now |

Tobacco-flavoured electronic cigarette refill
Suitable for the OK Vape Rechargeable E-Cigarette
Low nicotine strength of 6mg
Each pack contains 5 refills, with bulk offers available
Available from £5.00 per pack!

FREE OK Vape Starter Kit Offer: Enter

switch2ok

at checkout