How the Logic Pro E-Cigarette Works (and How to Refill Them)
To give you a professional-level vape with none of the mess or fuss, the Logic Pro e-cigarette features a simple and satisfying design. Using a three-part design, the Logic Pro makes it incredibly easy for you to get a top-shelf vape every time.
The Parts of the Logic Pro
The Logic Pro e-cig is made from three parts – the battery, the e-liquid capsule and the capsule case. These parts easily fit together to make refilling and reusing the e-cig simple and quick.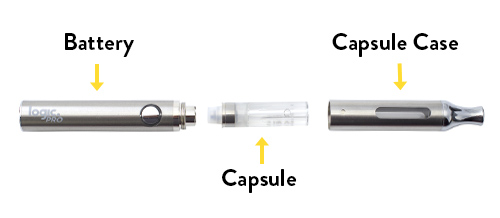 The Logic Pro Battery
The battery supplied with the Logic Pro e-cigarette features a 650mAh capacity, making it great for all-day vaping. Easily recharged with a USB charger, the battery provides power to the e-cig and enables the liquid in the charger to be transformed into vapour.
The Capsule Case
The capsule case funnels vapour from the capsule into your mouth and protects it from damage, keeping the e-liquid within safe. What's more, the case also features a window, enabling you to see how much liquid is left in the capsule so you can avoid the dreaded dry hits.
The E-Liquid Capsules
Filled with e-liquid, the capsules provide high quality flavour and nicotine. The Logic Pro capsules employ a no-spill design to keep things clean and mess-free, and each capsule includes an atomiser built-in. The atomiser is the part of the e-cigarette that transforms e-liquid into vapour, meaning that whenever you refill the Logic Pro, you're also replacing the atomiser for a quality vape every time.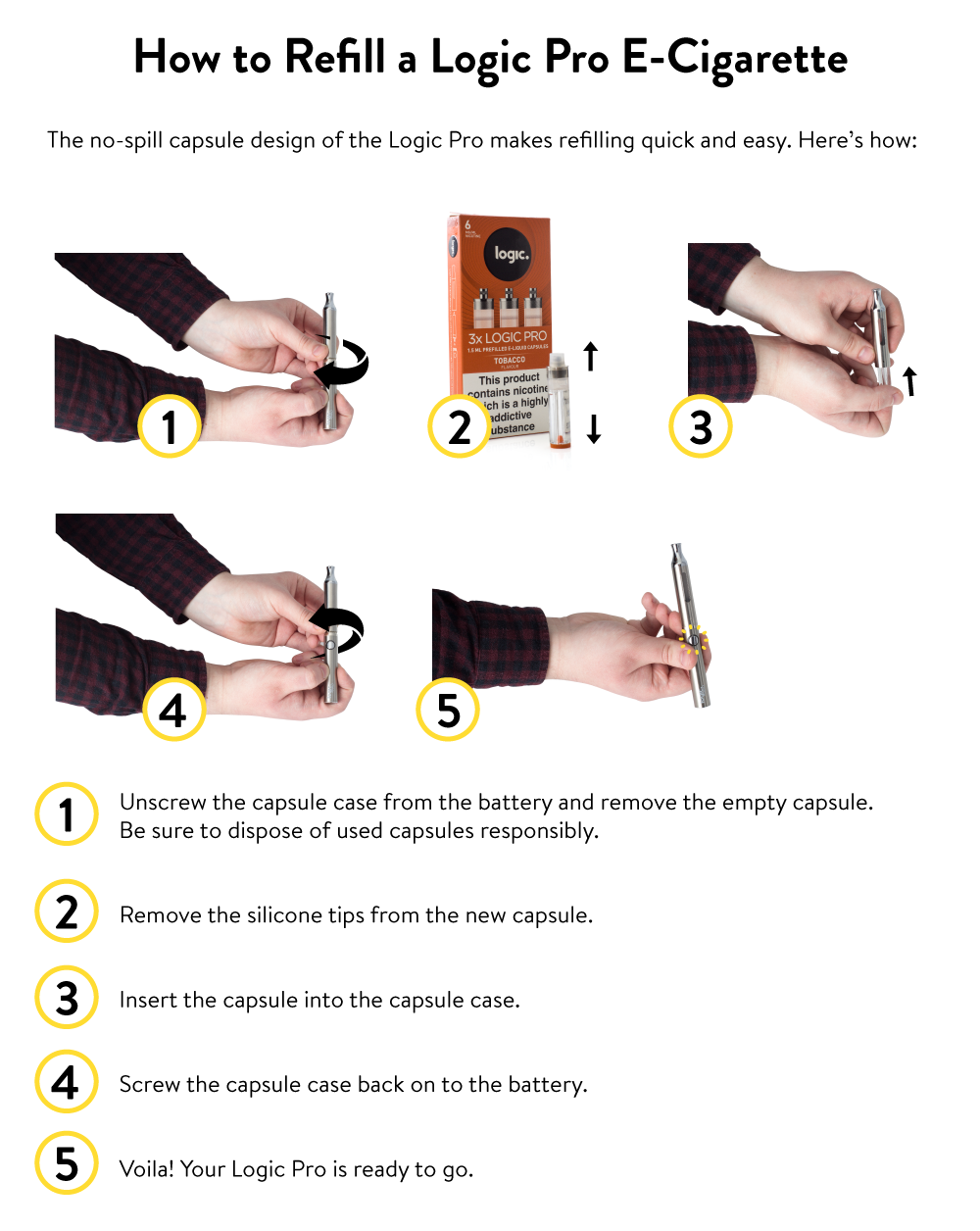 How the Logic Pro Batteries and Capsules Work Together
Once the capsule is in the capsule case and connected to the battery, the two work together to give you the vapour you want. The battery detects when you press the activation button it and sends power to the capsule to activate the atomiser inside. This transforms the e-liquid inside the capsule into vapour, which is inhaled to provide you with nicotine in a similar manner to a cigarette but without any additional toxins such as tar.
Save On Logic Pro Capsules
If you're looking to buy Logic Pro E-cigarettes and capsules from Vape Mountain, take a look at our wide range of Logic electronic cigarettes and accessories, including the Logic Pro.

£5.49

| | | |
| --- | --- | --- |
| | | In stock now |

Rechargeable electronic cigarette with slim "cigalike" design
Includes two tobacco flavoured nicotine refills
Starter kit includes everything that you need to start vaping
Number of different tobacco and menthol refills available

FREE OK Vape Starter Kit Offer: Enter

switch2ok

at checkout

£11.99

| | | |
| --- | --- | --- |
| | | In stock now |

Strawberry milkshake flavoured e-liquid
Nicotine strengths: 6mg, 12mg and 18mg
VG: 50%, PG: 50%
Made in the UK

£23.99

| | | |
| --- | --- | --- |
| | | In stock now |

Five packs of blackcurrant-flavoured pods
Designed for use with the EDGE GO device
Easy to use with a simple click-and-go design
Available in a range of nicotine strengths

£6.99

| | | |
| --- | --- | --- |
| | | In stock now |

Menthol flavour refill cartridges for the OK Rechargeable E-Cigarette
Each pack contains five cartridges and lasts for the equivalent of 125 traditional cigarettes
Low strength with 6mg of nicotine in each cartridge
Bulk offers available starting at £5.00 per pack

FREE OK Vape Starter Kit Offer: Enter

switch2ok

at checkout

£9.48

| | | |
| --- | --- | --- |
| | | In stock now |

Replacement battery and pack of cartridges
For the OK Vape Rechargeable E-Cigarette
Available with tobacco or menthol cartridges
Purchase one, two, or three batteries

FREE OK Vape Starter Kit Offer: Enter

switch2ok

at checkout

£11.99

| | | |
| --- | --- | --- |
| | | In stock now |

Blueberry and strawberry flavoured e-liquid
Nicotine strengths: 6mg, 12mg and 18mg
VG: 50%, PG: 50%
Made in the UK

£32.49

| | | |
| --- | --- | --- |
| | | In stock now |

Starter kit containing everything that you need to start vaping
Menthol flavoured and ideal for those who want to cut down on smoking
Contains a total of 26 high strength refills (18mg) and one medium strength refill (12mg)
Includes a USB charger, K1 Battery and an OK Vape carry case

FREE OK Vape Starter Kit Offer: Enter

switch2ok

at checkout

£6.99

| | | |
| --- | --- | --- |
| | | In stock now |

Tobacco-flavoured electronic cigarette refill
Suitable for the OK Vape Rechargeable E-Cigarette
Medium nicotine strength of 12mg
Each pack contains 5 refills, with bulk offers available

FREE OK Vape Starter Kit Offer: Enter

switch2ok

at checkout

Available from £5.00 per pack!

£6.99

| | | |
| --- | --- | --- |
| | | In stock now |

Menthol-flavoured electronic cigarette refill
Suitable for the OK Vape Rechargeable E-Cigarette
High nicotine strength of 18mg
Each pack contains 5 refills, with bulk offers available
Available from £5.00 per pack!

FREE OK Vape Starter Kit Offer: Enter

switch2ok

at checkout

£6.99

| | | |
| --- | --- | --- |
| | | In stock now |

Menthol flavour refill cartridges for the OK Rechargeable E-Cigarette
Each pack contains five cartridges and lasts for the equivalent of 125 traditional cigarettes
Nicotine-free with 0mg of nicotine in each cartridge
Bulk offers available starting at £5.00 per pack

FREE OK Vape Starter Kit Offer: Enter

switch2ok

at checkout

£4.99

| | | |
| --- | --- | --- |
| | | This product has been discontinued. Please contact our team for details of the latest release. |

A classic and refreshing minty menthol flavour
Includes three UK-made 1.5ml e-liquid capsules
Nicotine strength of 6mg per ml
Bulk offers available at a reduced price per pack

£6.99

| | | |
| --- | --- | --- |
| | | In stock now |

Menthol-flavoured electronic cigarette refill
Suitable for the OK Vape Rechargeable E-Cigarette
Medium nicotine strength of 12mg
Each pack contains 5 refills, with bulk offers available
Available from £5.00 per pack!

FREE OK Vape Starter Kit Offer: Enter

switch2ok

at checkout