Elf Bar
With a compact design and an impressive variety of flavours to choose from, it's no secret why the Elf Bar has quickly become the most popular disposable vape pen on the market. Each bar comes pre-filled with 600 puffs worth of delicious e-liquid in a wide range of flavours that includes cherry cola, topical guava and pink lemonade.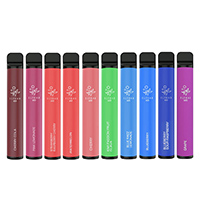 Dive in to the flavourful world of Elf Bar Disposable Vapes. Pocket-sized and pre-filled with delicious flavours, Elf bars are the perfect introductory vape pens for smokers who want to make the switch to vaping. Each bar is packed with 600 puffs worth of powerful flavour that stays potent from start to finish.
Available from as little as £3.80 per vape pen when you buy 10 or more. Mix and match any flavour until you find your favourite!
Shop Now
---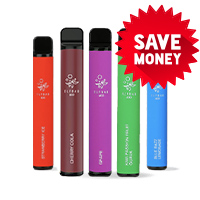 Save money on Elf Bar Disposable Vapes with our fantastic selection of Elf Bar Money-Saving Bundles. These bundles including single-flavour multipacks that give you the best value on your tried and tested favourite, as well as flavour samplers that allow you to find a new favourite! Our prices go as low as £3.80 per device, making these ideal for people looking to save money.
Shop Now