Premium Vaping Made Easy with MyBlu
25 September 2018 | Eugene

The world of vaping can be intimidating at times. On a short walk through town you may see your fair share of bearded vapers enshrouded by clouds with giant vaping rigs that they'll insist are worth the bother – and the cost.
What they may be unaware of is that vaping has progressed a long way over the years, and often the complex modded rigs that some vapers swear by have been outpaced by new technology, new ideas and new designs. As vaping has always been on the cutting edge, it doesn't make sense to ignore progress.
What Will This Guide Cover?
Premium Vapour Without the Bulk
Enter the MyBlu device and its sleek new approach to high performance vaping. Blu designed this device to prove that a small device can have the same impact as a bulkier rig, and in our opinion, they've finally done it. Refilled with a simple click and activated by simply drawing on the mouthpiece, this device simply couldn't be easier, and its sleek design makes it as convenient and portable as it is satisfying.

How Does the MyBlu Device Actually Work?
Refilling your vape has never been easier.
Simply slide your Liquidpod (pre-filled with Blu's premium e-liquid) into the mouthpiece-end your device, wait for the click, and you're ready to go. You don't even need to hold down a button, as the device detects the power of your draw, and immediately starts dispensing an even, thick cloud of vapour.
A battery light will illuminate to let you know it's working, with different colours to keep you up to date with your level of charge (blue: 20 - 100%, orange: 5 - 19% and red: 0 - 5%). To illustrate just how simple it is to refill your MyBlu device, you can see us trying it out in the graphics below: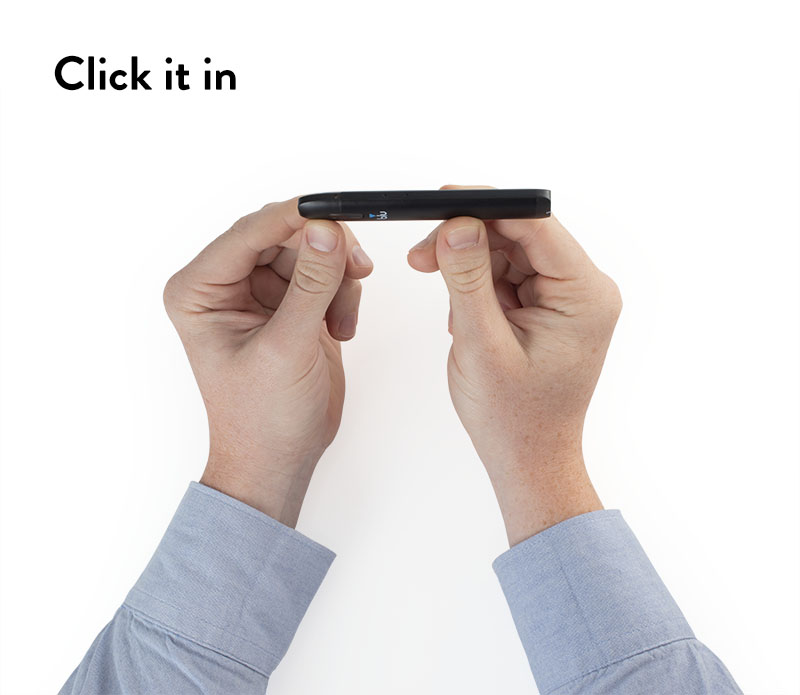 Full Charge in Only 20 Minutes!
Once your device shows a red battery indicator, it's time to charge up. This is done with the included USB charger, ready for use into any USB-compatible charging port. The battery light will flash to let you know it's charging, and when the blinking stops, you're ready to go again. It only takes 20 minutes to gain a full charge that lasts all day, at which point you're once again ready to enjoy premium vaping for as long as you like!

Range of Flavours Available
If you find that the standard tobacco flavour isn't quite exciting enough for you, MyBlu has you covered with a range of flavours that are sure to satisfy. Currently, MyBlu Liquidpods are available in:
MyBlu: A Blu Age of Vaping
The MyBlu device and its range of e-liquids are now available at VapeMountain.com, with quality and prices that may just put an end to the era of bulky rigs. Click here to view our full range of MyBlu products, all at unbeatable prices you won't find anywhere else!
At VapeMountain.com, we're always interested in what our customers have to say. If you'd like to share your experience with the myblu vaping system, or have a question, please feel free to let us know in the comments below or find us on Facebook or Twitter!
Shop the MyBlu Range
£2.99

| | | |
| --- | --- | --- |
| | | This product has been discontinued. Please contact our team for details of the latest release. |

Tart and juicy sweet cherry flavour
Nicotine strengths: 0mg, 9mg, and 18mg
VG: 35%, PG: 65%
Bulk purchases available from £4.70 per pack

£94.99

| | | |
| --- | --- | --- |
| | | In stock now |

Tart and tangy green apple flavour
Nicotine strengths: 0mg, 9mg, and 18mg
VG: 35%, PG: 65%
Bulk purchases available from £4.70 per pack

£2.69

| | | |
| --- | --- | --- |
| | | In stock now |

Menthol, spearmint and peppermint flavours
Nicotine strengths: 0mg, 9mg, and 18mg
VG: 44%, PG: 56%
Bulk purchases available from £4.70 per pack

£5.49

| | | |
| --- | --- | --- |
| | | This product has been discontinued. Please contact our team for details of the latest release. |

Sweet and tangy mango and apricot flavour
Nicotine strength: 9mg
VG: 35%, PG: 65%
Bulk purchases available from £4.70 per pack