10 Motives E-Cigarettes Now Available on Vape Mountain
11 December 2018 | Admin
There's no longer any doubt that vaping is far safer than smoking cigarettes. 10 Motives have created a name for themselves as being extremely passionate about getting as many cigarette smokers as possible to give up tobacco for good, and they achieve this by developing truly state-of-the-art vaping products. Here at Vape Mountain we share their enthusiasm, which is why we've decided to stock a broad range of 10 Motives electronic cigarettes and refills.
Who Are 10 Motives?
Based right here in the UK, 10 Motives are an electronic cigarette company dedicated to help smokers all over the world find a way to finally give up their cigarette smoking habit. Their products consist of several different battery-powered devices that provide doses of nicotine via inhalation from a vapourised PG/VG and nicotine solution, delivering the body the nicotine that it craves, without any of the harmful smoke and tar.
Their vaping devices produce vapour that provides flavour and a throat hit, further emulating the physical effects of smoking. This, combined with the realistic design of their electronic cigarettes that perfectly imitate the feeling of having something in your hand, provides a satisfying experience that can help you cut down on smoking tobacco cigarettes.
Find the Right 10 Motives E-Cigarette for You
First, you need to consider how dedicated you are to making the switch from smoking cigarettes to vaping. If you're only exploring all the different options, we strongly recommend either the Disposable Tobacco Electronic Cigarette, or the Disposable Menthol Electronic Cigarette. These offer the nicotine equivalent of up to 40 traditional cigarettes, which gives you just enough time to make up your mind about whether or not you want to continue with this experiment.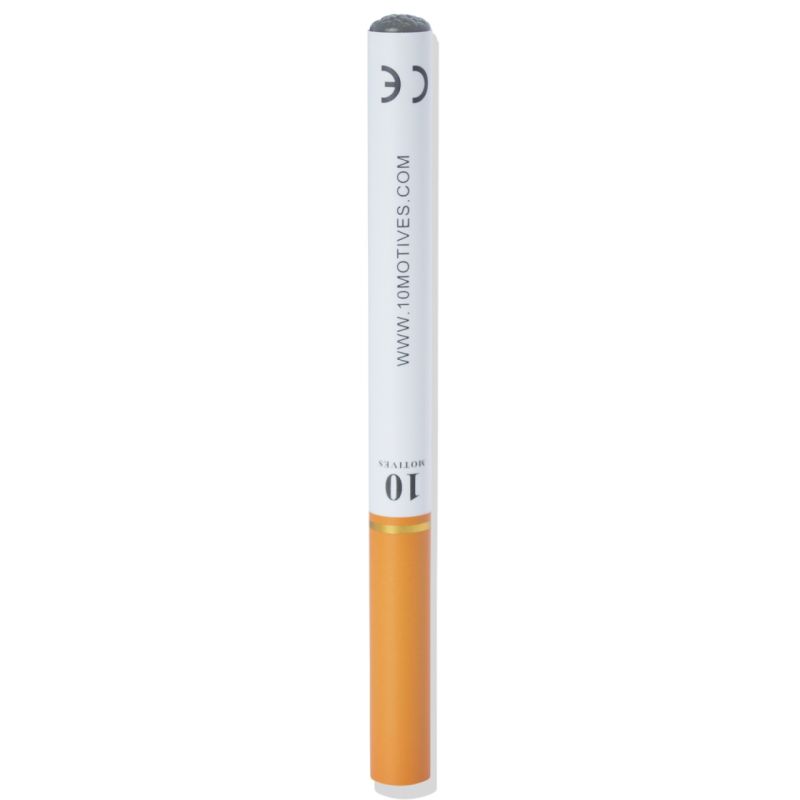 One disposable e-cigarette offers the nicotine equivalent of up to 40 traditional cigarettes.
If you decide this is the right path for you, a rechargeable e-cigarette is the next logical step. Choose from the Rechargeable Tobacco E-Cigarette Starter Kit or the Rechargeable Menthol E-Cigarette Starter Kit, and get vaping right away. These kits are perfect if you want to start vaping without having to do any additional research, as they include a rechargeable electronic cigarette, complete with a USB charger and battery, and one 16mg refill cartridge.

One refill offers the nicotine equivalent of up to 25 traditional cigarettes.
Explore the Exciting Flavours
Whether you're a traditionalist who wants to stick with regular tobacco flavours, or an explorer who loves to broaden your horizons, 10 Motives offer something for everyone. Their Rechargeable E-Cigarette Starter Kits can be used with a range of flavours, including:
At VapeMountain.com, we're always interested in what our customers have to say. If you'd like to share your experience with 10 Motives vaping system or have a question, please feel free to let us know in the comments below or find us on Facebook or Twitter!